IKWRO True Honours Award Winners 2022
NAWO member IKWRO is delighted to announce the nominees and winners of the True Honour Awards 2022.
"On behalf of IKWRO and all of the judges, we congratulate every nominee for their crucial work to end "honour" based abuse and support survivors. Every single one deserves recognition and praise."

---
Winner of Special Recognition of Professional Working to End "Honour" Based Abuse
Mindy Mahil
Mindy Mahil served as a police officer for 30 years. The final 4 years of his career were with the Public Protection Unit where Mindy specialised in "honour" based abuse cases. Mindy helped achieve the first Forced Marriage conviction in England in 2017. He achieved a second in 2020. Working with foreign embassies and NGOs, Mindy has helped to repatriate over 25 survivors of forced marriage and FGM. After retiring from West Midlands Police in 2019, Mindy returned as an investigator for the Public Protection Unit and he is currently the force's subject matter expert for forced marriage and "honour" based abuse. In recognition of his expertise, Mindy is on the national crime agency register of experts. Mindy provides advice to, and trains; police forces, partner agencies, social workers and those working within the education sector. He also delivers training for the Forced Marriage Unit and as an associate for Safelives. Mindy is an Ambassador to the 'The Sharan Project'. He contributed to the publication 'Men Masculinities and Honour Based Abuse' and he has been featured in two episodes of the BBC documentary series, 'The moment of proof.'
Winner of Special Recognition for Academic Contribution to End Honour Based Abuse
Professor Aisha K. Gill
Professor Aisha K. Gill, Ph.D. (University of Essex) CBE is a Professor of Criminology at the University of Roehampton. Her main focus areas include health and criminal justice responses to violence against Black, minority ethnic and refugee women in the UK, Afghanistan, Iraqi Kurdistan, Libya, India and Pakistan. Gill is often called on to commentate in the news on early, child and forced marriage, "honour" based abuse, domestic abuse and sexual violence. She has published widely in peer-reviewed journals. In 2015, she was involved in a research project commissioned by Her Majesty's Inspectorate of Constabulary documenting the experiences of victims/survivors of "honour" based abuse, including forced marriage and female genital mutilation. In 2017, she was funded by the Hertfordshire Police Crime Commissioner to conduct research on "honour" based abuse, forced marriage and female genital mutilation. In April 2021, Gill was appointed as one of five judges for CEDAW's People's Tribunal hearing on women's human rights in the UK. From December 2021, Gill will be working on a Home Office funded research project that focuses on better understanding the motives and patterns of perpetration of family violence, in Black and racially minoritised and LGBTQI+ communities. Gill has actively improved victim-support policies. Her contribution as an expert witness has helped to achieve justice for a number of survivors of "honour" based abuse. In June 2020, she set up an emergency COVID-19 fund for survivors of abuse with no recourse to public funds', which has raised over £87,000.
---
Joint Winner of Special Recognition as Survivor Activist Tackling "Honour" Based Abuse
Renu Tina Kenworthy
Renu Tina Kenworthy came to the UK when she was 21 years old. Two years later she got married in India and returned to live with her husband in England. Within weeks, she knew that her husband was not the right person for her, but she was repeatedly told that she was expected to follow in the same footsteps as her grandmother, mother and sisters; to be a respectful daughter, sister, wife and mother. The marriage was extremely abusive and contributed to one of her four sons being stillborn. Tina tried to leave the abusive marriage several times, but was pressured to remain and to not take any steps that could be seen to bring shame and dishonour to her family in the UK or India. Tina, her children and her neighbours, all called the police many times, and she repeatedly felt let down by them. After 15 years of abuse, Tina bravely left the marriage for good. After attending a 12 week Domestic Abuse Recovery Toolkit Programme, she decided to speak out about her experiences of "honour" based abuse and domestic abuse, to help other women access support. Tina has shared her experiences through the media and at events, including with Leicestershire Police, at the South Asian Heritage Month Domestic Abuse Awareness Discussion, and as part of the 16 days of Activism with Zinthiya Trust and H.O.P.E training and Consultancy. Tina is celebrated in the #100Women H.O.P.E Digital ART Project. She describes herself now as "not just surviving, but thriving".
Joint Winner of Special Recognition as Survivor Activist Tackling "Honour" Based Abuse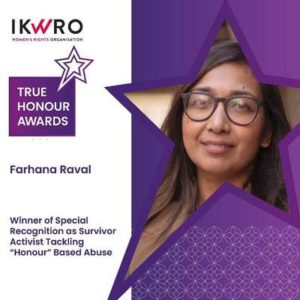 Farhana Raval
Farhana Raval is an inspiring survivor activist. Almost 20 years after being coerced into marriage aged 16, she reaslised that she was a victim of what should be a clear-cut crime; child marriage. Farhana is sure that had child marriage been a crime at the time, it would not have happened to her. She was taken to Bangladesh for the child marriage under false pretences, and was forced to remain there until she became pregnant. It took years for her to be able to leave the marriage. Farhana was determined to pursue her education and now has a successful career as a tax accountant.
Farhana is inspiringly campaigning, with the Girls Not Brides UK Co-chairs, to change the law to ban child marriage. She has shared her experiences with the All Party Parliamentary Group for "honour" abuse and with print and broadcast media, including BBC News, BBC Radio 5 Live, BBC Radio Scotland, BBC Asian Network, The Guardian, The Independent and The Telegraph. As a survivor ambassador for Karma Nirvana, Farhana has also spoken at training seminars and workshops attended by immigration officials, police, education representatives and health authorities on the subject of "honour" based abuse, raising awareness of the impact of forced and child marriage. By bravely speaking out as a survivor and influencing change, Farhana is ensuring that girls will be safeguarded from "honour" based abuse and have brighter futures.
---
Winner of Special Recognition for Outstanding Organisation Tackling "Honour" Based Abuse
Sikh Women's Aid
Sikh Women's Aid is the first by and for service aimed at Sikh/Panjabi women and children who are victims of domestic and sexual violence, where "honour" and shame are used to suppress and silence victims. The founding team has a combined 40 years of experience supporting South Asian victims/survivors of abuse. They provide support and education via crisis management, therapeutic and housing support. Sikh Womens Aid are expanding their services to include early intervention and prevention and mental health and resilience building via a dedicated helpline, bi-lingual support workers and trained volunteers.
In 2021 Sikh Women's Aid launched the first ever research of its kind gathering grassroot experiences of the prevalence and impact of domestic and sexual violence in the Sikh and Panjabi community. Damning findings revealed that 70% of respondents had suffered domestic abuse; nearly half from more than one perpetrator. A third of all respondents had experienced Child Sexual Abuse/Exploitation and one in seven had more than one perpetrator. The research has been widely reported on BBC Woman's hour, on multiple BBC regional radio programmes and in The Observer.
---
Winner of Special Recognition of Parliamentarian Tackling "Honour" Based Abuse
Pauline Latham MP OBE
Pauline Latham OBE is the Member of Parliament for Mid Derbyshire. Her Marriage and Civil Partnerships (Minimum Age) Bill is currently going through Parliament. The bill will set a blanket minimum age of marriage in England & Wales, including both registered and unregistered marriages, and will apply extraterritorially too, to protect children who are taken outside of the UK to marry.
When IKWRO, along with their fellow Girls Not Brides UK Co-Chairs, first met with Pauline several years ago to discuss changing the law to end child marriage, Pauline said that she was determined to see it through and tell her grandchildren that she had. Last month Pauline's grandchildren were at the House of Commons to hear her give her speech at her Bill's third reading.
Pauline has shown unwavering commitment and tenacity to win government and cross-party support and get her Bill to this stage. This is her third attempt, working with the Girls Not Brides UK coalition, to get it through Parliament. The bill was recognised by the responsible Minister as one of the most important private member's bills in memory. It will bring England & Wales into line with its international commitments on ending child marriage, and safeguard the futures of many thousands of children.
---
Winner of the True Honour Award 2022
Naila Amin
Naila Amin is an inspiring survivor activist and a student. She was born in Pakistan and migrated to the United States when she was four years old to live in the New York suburbs with her family.
When Naila was 8 Years old, she was promised to her cousin, who was 13 years older than her. Aged 15, Naila was taken to Pakistan and forced to live with her cousin/husband. She was held there against her will, until the U.S. authorities were alerted and she was rescued by the State department in 2005.
Naila began her activism when she was 25 years old, sharing her experiences and raising awareness that child marriage is an American issue. A year later, in 2016, she founded the Naila Amin Foundation.
In 2018, Naila helped to influence New Jersey to raise its minimum age for marriage, with or without parental consent, to 18. It was only the second state to do so. Shortly afterwards, Naila went to New York state Assemblyman Philip Ramos and influenced him to introduce legislation to ban child marriage in New York State.
Due to the pandemic, Naila saw the proposed bill start to "slip through the cracks", so she emailed every Assembly member and senator in New York state, sharing her own experience and asking them to support the bill. She says "I think it was about 150 Assembly members and it took me days, but I did it. We can't let this happen to our children anymore." Once Naila found out that the bill had cleared unanimously, she called the office of Andrew Cuomo, the then Governor of New York, daily, to urge him to sign it. When Cuomo finally signed the bill, making New York the sixth state to ban child marriage, Naila says "I just started crying tears of happiness". The law – which is called Naila's Law – came into effect in summer 2021.
Naila helps many young women by advising them and connecting them with the appropriate resources and legal services and plans to open the first refuge in the U.S. to house girls escaping forced marriages and "honour" based abuse. Her goal is to end child marriage in all 50 U.S. states. She is currently working on a federal bill to raise the minimum age for spousal sponsorship to 18 and Naila hopes to expand her work Internationally.