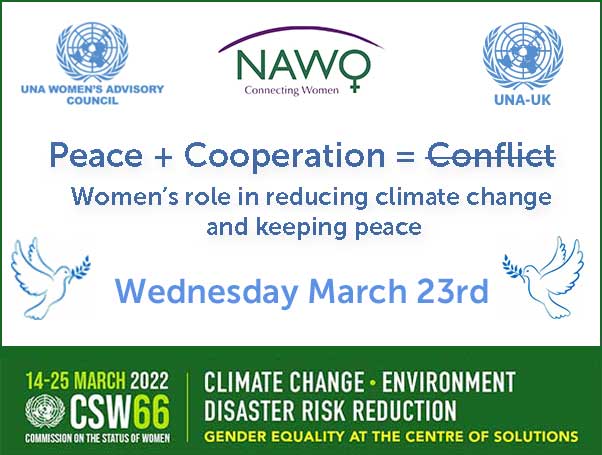 #CSW66 Peace + cooperation = no conflict, women's role in reducing climate change and keeping peace.
Conflicts and wars are destructive, they cause pollution and harm the environment.
How women can overcome the difficulties of trying to add their perspectives and leadership abilities to peace keeping processes and to protecting the environment.
Several speakers followed by discussion and questions.
---
Organised by NAWO, UNA Women's Advisory Council and UNA-UK
Wed 23rd March. 1pm – 2.30pm UK time
Click to Register
---
Speakers
Zarin Hainsworth OBE UK, Director of NAWO
Daniela Chivu, Canada, Vice President Justice
Kirthi Jayakumar, who runs the Gender Security Project
Lesley Abdela MBE, UK Senior Partner in Shevolution